American Behavioral Health Systems (ABHS)
Bargaining Team Nominations
Preparations have already begun for negotiating the 2021-2022 Collective Bargaining Agreement, and it's time to nominate the people you want to bring your concerns to the bargaining table. Bargaining is at the heart of our power as a union. Submit your nominations here.
Bargaining teams will soon begin their training and the hard work of preparing for negotiations. 
WFSE members in good standing in the ABHS bargaining unit may elect up to seven bargaining team members to their bargaining team. 
Nominations must be received no later than 5:00 pm on December 31.
Nomination and elections will be online only. 
Not a WFSE member? It's not too late to join and participate in the process. Join now!
If you have questions, contact the WFSE MCC at [email protected] or 833-MCC-WFSE (1-833-622-9373).
Contracts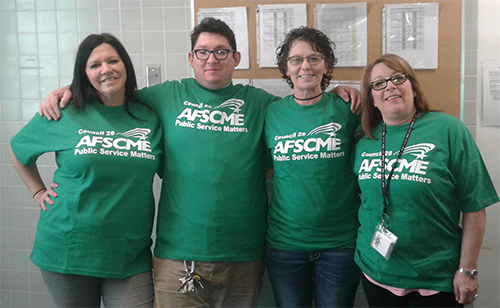 ABHS Members in Chehalis show their solidarity and proudly sport their 100% Union shirts in support of a strong contract!
Pictured L-R: April Byrd, Aaron Ristow, Doreen Bartley, and April Grace