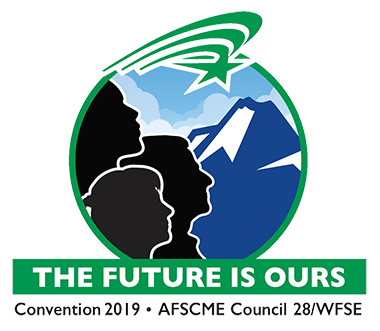 The 48th Biennial Convention of the Washington Federation of State Employees, Council 28 AFSCME AFL-CIO, will be held in SeaTac, Washington at the Doubletree Hotel Seattle Airport (19740 International Blvd, Seattle, WA 98188) on October 4-6, 2019.
CONVENTION BUSINESS
CONVENTION DEADLINES:
June 1- Credential Packets Mailed

June 4 - Earliest Elections may be held

August 5 - Delegate / Alternate credentials due post marked and received

August 15 - Housing & Travel Deadline

August 20 - Resolutions and Constitutional Amendments (other than per capita tax increases) are due

August 26 - Deadline for Nomination forms (AWARDS) (Date Extended)
September 3 - Requesting a table in the Member Resource room deadline
CONVENTION AWARDS:
Job Action of the Year Award - Nomination Form
Howard Jorgenson Organizing Award - Nomination Form
Rosella Charvet Leadership Award - Nomination Form
FORMS:
TRAVEL:
RESOURCES:
MORE INFORMATION:
Convention delegates are elected through their Local Unions. Please contact your local president if you are interested in attending the convention.